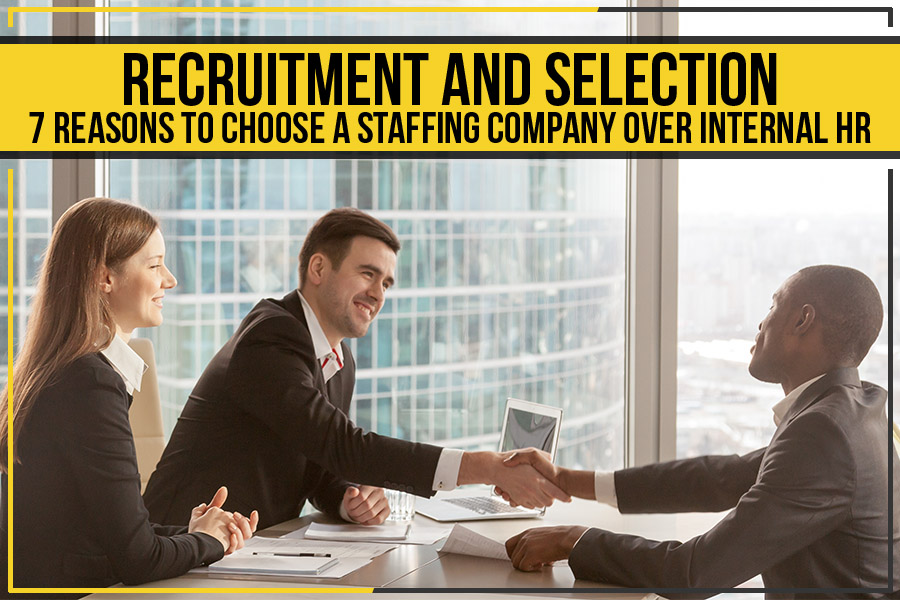 Recruitment And Selection: 7 Reasons To Choose A Staffing Company Over Internal HR
Posted on April 5, 2021
One of the biggest decisions that a business owner has to make when it comes to talent acquisitions and recruitment is whether to use a staffing company's services or create an internal HR team. Each option has it's fair share of pros and cons.
However, there are many benefits to choosing to use a staffing company's services. Read on to find out what they are!
1. A Staffing Firm Will Cost You Less
Hiring a staffing company will help you spend less time and money sourcing and training talent. Moreover, you'll only be using their services until the open positions are filled.
Hiring and maintaining an internal HR department can result in high costs for things such as salaries, rent for office space, job recruitment marketing, employee training, etc.
2. They Give You Access to the Best Resources
A staffing company's mission is to present their client's with the best candidates for the job in a time efficient manner. They have recruitment experts with knowledge of your industry who will work with you to find the most qualified people, whom you may not have access to, to fill any position you are looking to fill.
3. Help You Fill Vacancies Quickly
Professional staffing companies have an expansive candidate database with knowledge on the experience levels, qualifications, specializations, and interests of these candidates. Therefore they are able to help you find the best candidate for the job quickly and efficiently.
If you try to fill the vacancy internally, you will have to go through a more lengthy process (advertising, shortlisting, interviewing, screening, background checks, etc.) that could take you much longer to fill the position.
4. Allow You to Meet Your Commitments
When you are short a team member and/or left with a vacant position on your staff for months; work starts to pile up and project deadlines are missed. A staffing company can assist you in filling vacant positions as soon as possible so you can avoid any negative impact on your bottom line.
5. Retain Your Best Team Members
When you have a vacant position, your existing staff gets overburdened fulfilling the duties of the former employee until someone new takes their place. This can negatively impact productivity and morale.
By outsourcing your company's staffing, the vacancies will also be filled more quickly and current team members are more likely to stay.
6. Save Your Company's Reputation
When you hire qualified candidates, your company's productivity, culture, output, etc becomes more competitive and successful in the job market. This results in a good reputation for your company within your industry.
7. Increase Diversity
Job hiring based on employee recommendations or by internal selection will lead to a more homogenous workforce. Your internal HR will hire new employees who fit well in your existing workplace culture. In other words, candidates who are similar to existing employees in the organization – maintain peace and comradery in the workplace. This practice decreases workplace diversity, which could lead to a limited creativity and ideas, and eventual stagnation of the company.
Allowing an external entity to do your staffing will be your saving grace. They will remain impartial to the candidates and judge them solely on their qualifications and merit. This will ensure a healthy flow of out-of-the-box ideas and evaluation from unique perspectives.
Spark Packaging offers recruitment and staffing services to converting, printing, and packaging businesses all over the U.S. Contact us for more information.
---